Celebrities and fans have paid tribute to Tina Turner, the soul star behind hits like The Best and What's Love Got to Do With It, who has died aged 83.
Beyoncé said she was the "epitome of passion and power", while Sir Mick Jagger called her a "wonderful friend" and "enormously talented" performer.
Turner was also praised by Mariah Carey and Oprah Winfrey as a "survivor" who overcame years of domestic abuse.
The Obamas praised her for "singing her truth through joy and pain".
They were joined by current US President Joe Biden, who noted that Turner had started life as a farmer's daughter and hailed her "once-in-a-generation talent".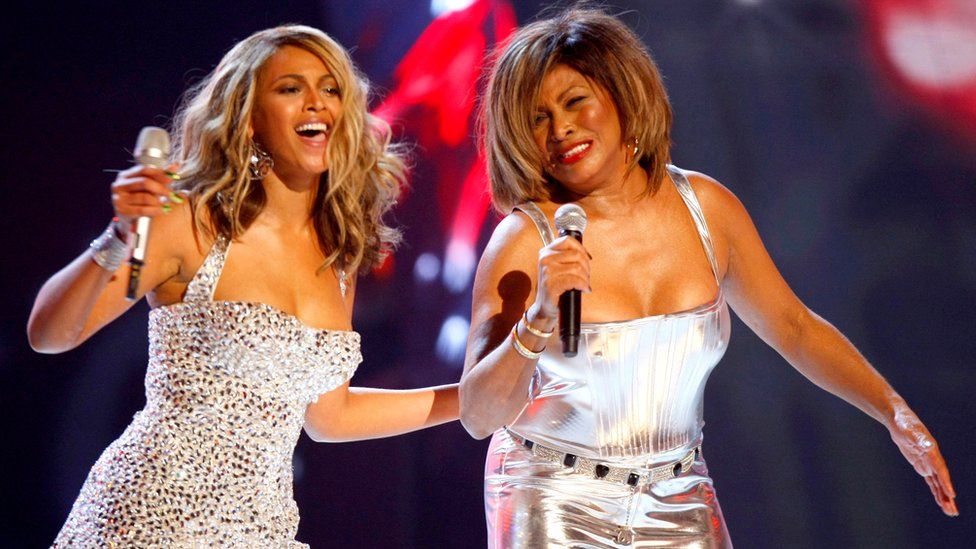 The singer's death was announced on Wednesday by her publicist. No cause was given, but she had suffered a number of health issues in recent years, including a stroke and kidney disease.
Known as the Queen of Rock and Roll, she was a firebrand on the stage, and one of the most unforgettable vocalists of her generation.
She embarked on her singing career in the 1950s and found fame with the Ike Turner Revue, before re-emerging as a solo star in the 1980s.
US singer Gloria Gaynor said Turner "paved the way for so many women in rock music, black and white".
"She did with great dignity and success what very few would even have dared to do in her time and in that genre of music. "
Another contemporary, Diana Ross, said she was "shocked" and "saddened" by Turner's death; while Dionne Warwick remembered her as an "eternal ball of energy".
Mick Jagger, who often collaborated with Turner, wrote on Twitter: "I'm so saddened by the passing of my wonderful friend Tina Turner.
"She was truly an enormously talented performer and singer. She was inspiring, warm, funny and generous. She helped me so much when I was young and I will never forget her."
Sir Elton John called Turner a "total legend on record and on stage".
He said: "We have lost one of the word's most exciting and electric performers… She was untouchable."
Welsh star Dame Shirley Bassey recalled how Turner "really gave it her everything and was a fantastic performer", and US Government space agency Nasa added: Simply the best. Music legend Tina Turner sparkled across the stage and into millions of hearts as the Queen of Rock 'n' Roll. Her legacy will forever live among the stars."
Born in Tennessee and raised in the church, Turner basically elbowed her way into rock 'n' roll and rose to fame in the 1960s.
When Ike Turner refused to give her an audition, she waited for the intermission in his show, grabbed a drummer's microphone and let rip.
She sang with the band for the rest of the night, and soon got equal billing with Ike – later marrying her co-star.
"When Ike heard me, he said, 'My God!'" she told People magazine in 1981. "He couldn't believe that voice coming out of this frail little body."
They became one of the most watchable, combustible bands on the soul circuit; and many of their hits were covers of other people's material.
From Proud Mary to Get Back, via Whole Lotta Love, Turner made the songs her own, bringing an unforgettable rasp and a powerful female perspective to those rock and roll standards.
John Fogerty, the former Creedence Clearwater Revival frontman who wrote Proud Mary, tweeted: "So deeply sad to hear about Tina Turner's passing… I loved her version of Proud Mary! It was different and fantastic. I was also so happy because she chose my song and it was her breakthrough record."
The star was left penniless after divorcing Ike Turner in the 1970s, but she went on to achieve even greater success as a solo artist, with hits including What's Love Got To Do With It, Let's Stay Together, The Best Steamy Windows, Private Dancer and James Bond theme GoldenEye.https://emp.bbc.com/emp/SMPj/2.49.3/iframe.htmlMedia caption,
Tina Turner spoke frankly about domestic abuse in 2018
A number of Wednesday night's tributes referred to her escape from her husband's abuse.
The charity Women's Aid was among those to quote one of Turner's songs, saying: "She will always be simply the best."
TV presenter Oprah Winfrey cited Turner's "courage", adding: "Her life became a clarion call for triumph."
In an effusive message, singer Mariah Carey called Turner not only an "incredible performer" but also a "survivor and an inspiration to women everywhere".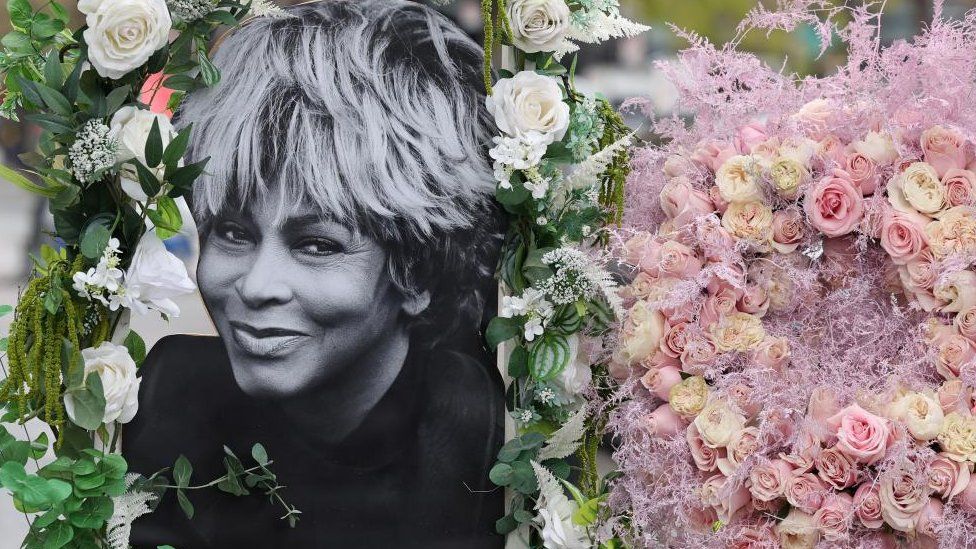 Beyoncé, another younger star who was influenced by Turner, wrote on her website: "My beloved queen. I love you endlessly.
"I am so grateful for your inspiration, and all the ways you have paved the way. You are strength and resilience. You are the epitome of passion and power.
"We are all so fortunate to have witnessed your kindness and beautiful spirit that will forever remain. Thank you for all you have done."
Singer PP Arnold – who performed alongside Turner – told the BBC that the two women's relationship had "changed my life" and saved her from an abusive teen marriage.
Numerous other musicians including Janelle Monáe, Dolly Parton, Blondie's Debbie Harry and Sir Tom Jones were quick to hail the late performer's achievements.
She won eight Grammy Awards and was inducted into the Rock 'n' Roll Hall of Fame in 2021 as a solo artist, having earlier been inducted alongside Ike.
Singer's Words For Angela Bassett
Her glittering career also saw her make film appearances; while the 1993 biopic What's Love Got To Do With It told the story of her own life.
Angela Bassett, who memorably earned an Oscar nomination for playing Turner, said the star had "showed others who lived in fear what a beautiful future filled with love, compassion, and freedom should look like".
In a lengthy statement to Deadline, she added: "Her final words to me – for me – were 'You never mimicked me. Instead, you reached deep into your soul, found your inner Tina, and showed her to the world.'
"I shall hold these words close to my heart for the rest of my days. I am honoured to have known Tina Turner."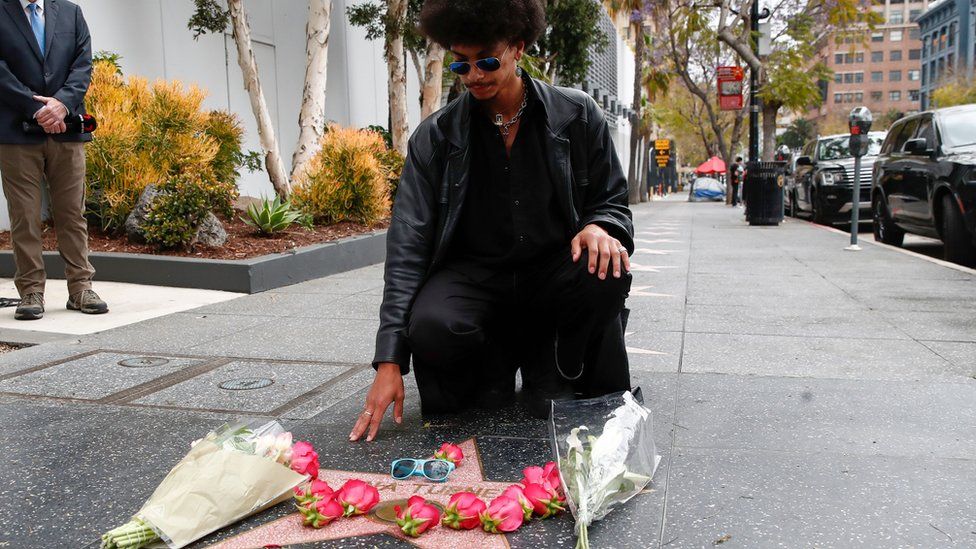 Fans around the world paid their own respects – with flowers laid on Turner's star on the Hollywood Walk of Fame in Los Angeles, and candles lit outside her home in Küsnacht, near Zurich.
Bouquets were left outside London's Aldwych Theatre – the current home of a musical named Tina, about the late singer's life.
The show's star Kristina Love addressed the news on stage, recalling the time she met Turner, who had made her "feel comfortable with the mammoth task ahead in playing her".
The BBC also heard reactions from members of the public outside Washington DC's National Museum of African American History and Culture.
Turner was the "epitome of resilience and starting again", said one woman named Marlene.
Ernest Lawrence, a T-shirt seller, said he planned to make a design with Turner on it – explaining that the performer had "one of the most successful legacies in music in my lifetime".
He hailed the late star as a "great black female" and a "positive image for any woman", having overcome "hard times" in her personal life. BBC